We completed a small submersible vehicle for private leisure type designed to be fast and versatile. Our submarine can dive and submerge in amazing speed, executing somersault, pitching & rolling and cruising upside-down in the water. Other than leisure uses, we can manufacture various submarines depending on your own purposes such as monitoring, security, rescue and so on.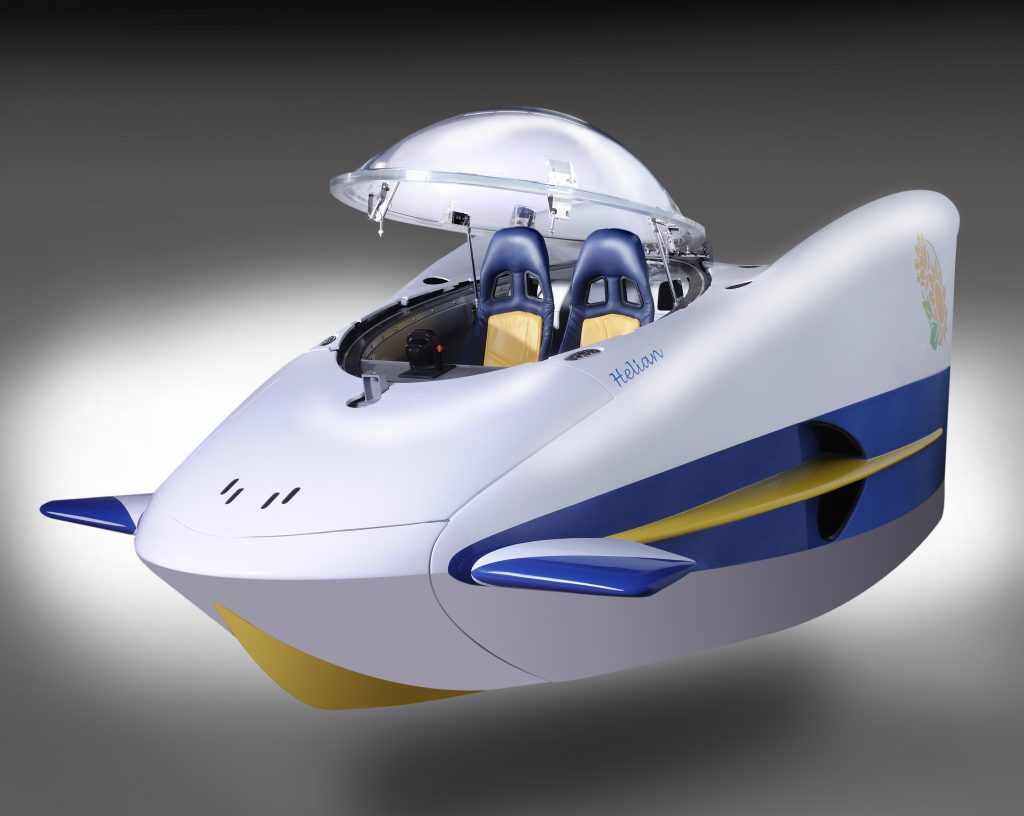 P-1 Submersible development and birth history
Originally the two-seater P-1 submersible started as a hobby of Mr Miyagawa, CEO of Amuza Motors Pty Ltd, Australian company in 1996.
In 1997 Amuza Motors Pty., Ltd. repeated trial and error with clay models to determine its concept and design, etc., and began commercialization after examining a mock-up model of life-size.
In 2002, transferred the main business from Australia to Japan and established Amuza Japan Co., Ltd., and entered into full-scale joint research and development with the Graduate School of Engineering, Faculty of Engineering, Kyushu University (currently, Department of Marine Systems Engineering, Faculty of Engineering, Kyushu University)
In 2003, with the participation of 3 companies as a team such as Techno Service Co., Ltd. (CEO, Takafumi Goto) who develops extremely valuable technology with developing and manufacturing test tanks for universities and underwater robots, precision instruments, etc., Ichiroku Giken Co., Ltd. (CEO, Fukuda Minoru) with high technological capabilities in chemical coating processing such as pipes, and Keiesu Co., Ltd.. (CEO, Yoshihiko Sasaki), who have sophisticated metal processing technology with high difficulty, succeeded in developing and manufacturing P-1 in 2007, we conducted a manned ocean test for the first time in Hirado City, Nagasaki Prefecture.
At the same time, with the participation of heavy engineering-related OB teams in the submersibles, improvement and processing on the prototype were carried out. And after being improved into a full-scale submersible, for the long term of six years or more, we repeated ocean tests in Okinawa. We collected and analyzed various data from the tests. The results are thoroughly applied to the current P-1.
And now, as a company specializing in the development and manufacture of unmanned submersibles and various submersibles such as S-1 (3 seater) jointly with TSE listed company, aquatrain with the famous Carrozzeria sponsorship in Italy, and tourist submersibles at the request of overseas governments and local governments in overseas, ROV, AUV etc. Amuza Japan is extremely energetically working on the realization of those various submersibles.
Testimonial from the pilot :
This submarine can manage rapid diving and submerging, and steep submerging as well. The submarine can make acrobatic movements that traditional submarines have never achieved. As this submarine can dive at a rapid speed it keeps approximately between 30 and 40 degrees angle to avoid rough conditions like rocks. We will also adjust the speed at 12m per 8 seconds in this situation. This vehicle can submerge at more than 60 degrees angle but it usually keeps from 20 to 30 degrees angle and surfaces at 10m per 8 second in consideration of safety. You can make a rapid turn on your own. We will recommend to you the exciting "Dolphin Dive" that one can perform just between surface and underwater that is very similar to dolphin's swimming. It dives into the water immidiately after it shows its face on the surface, and it submerges again. It repeates the same again and again. This is what we call the "Dolphin Dive". The dolphin dive has two different spans for its swimming, short and long. The long span shows up approximately 5 seconds and short one shows up approximately 2 seconds after diving into the water. You can feel almost no rolling in "Hydna". It shows only 10cm updown movements under less than 3 knots slow cruising and 1m updown movements between 5 and 10 knots rapid cruising. This action proves "Hydna" has very high performance.
*"Hydna" is the name of the submarine.
Testimonial from R&D Team :
People often ask us, "Is it more difficult to make a big submarine than small ones?" Actually, the answer is "NO". The bigger submarines become, the easier it is to design them. Their balance performance is also enhanced. The reason is that big submarines have enough capacity to store and load numerous amounts of equipment and devices. Therefore our less-than-5m-long "Hydna" has few choices. This small submarine needs to load a large quantity of equipment in a small area which makes it more difficult to develop. That is why we succeeded in the challenge to create this egg-shaped small submarine.